Movies:

Brandon Kirby

chooses 2011's best films as part of our final day (albeit late)
looking back at 2011's best
It was a year that started out slow but gained last-minute momentum come time for December. Before that, though, was summer which gave us welcome surprise hits such as "Crazy, Stupid, Love" and "The Help" along with the best comedy of the year, "Bridesmaids."
It was also a year reflecting on the magic of cinema. J.J. Abrams' "Super 8" reminisced about the old Amblin films of Steven Spielberg, and then the year closed out with a reverie to old-fashioned filmmaking from the director himself with "War Horse." Martin Scorsese directed his first children's film, "Hugo," but it was really only under the guise of a children's film. More a reflection on cinema's early history, his film merely skirted the surface of what Michel Hazanivicius' glorious black and white silent film achieved with "The Artist." A gimmick gone right.
And then there's Alexander Payne who, after seven years, gave us a rare treat starring George Clooney. It was certainly his and Ryan Gosling's year with Gosling's turns in "Drive," "Crazy, Stupid, Love." and the Clooney-directed "Ides of March." It was also a year of girl power with strong female casts in both "Bridesmaids" and "The Help" not to mention an American reincarnation of power hacker Lisbeth Salander from Rooney Mara in "The Girl with the Dragon Tattoo."
12. The Help
With excellent performances from both Octavia Spencer and Viola Davis, this tale of black maids in the Deep South hit all the right notes. It stands as the year's crowd-pleaser striking a balance between light humor and poignant pathos following the heartfelt narration of a maid named Abigail. What's most impressive is the way the movie effortlessly breaks the bounds of its Oprah book club wrapping.
11. My Week with Marilyn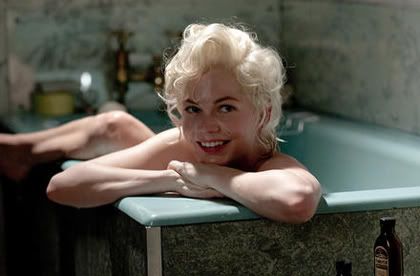 The film's obvious centerpiece is an Oscar-worthy lead performance from Michelle Williams as the iconic screen goddess Marilyn Monroe. She is absolutely magnetic and luminous taking the smart route of not trying to figure out who Monroe was but rather emanating everything she was about -- the way she made people feel to be around her. And the film's power is the way it makes you feel what they must've felt.
10. The Girl with the Dragon Tattoo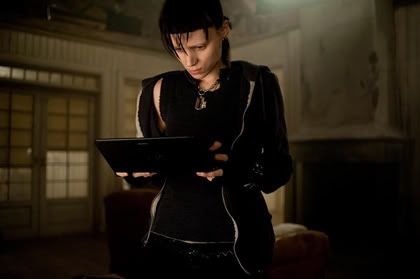 David Fincher returns to gritty crime noir with his adaptation of the first entry in Stieg Larsson's international best-selling "Millenium" trilogy. And while not any better or worse than the Swedish adaptation from last year, what makes it different is Fincher putting his personal stamp on it. He infuses the dark, winding tale with his signature style that gives the film a feel all its own. And Rooney Mara as Lisbeth Salander? She's dynamite and reaches into complexities of the character even Noomi Rapace didn't manage.
9. Beginners
Providing the most honest screen romance this year, Ewan McGregor and Mélane Laurent are a couple trying to figure out what makes them both happy. Writer/director Mike Mills has total control over the tone of his film with the ability to introduce a talking dog without disrupting any realism set in place. And with a stand-out performance from Christopher Plummer as the main character's late-blooming gay father, the film hits you with a waft of poignancy.
8. The Muppets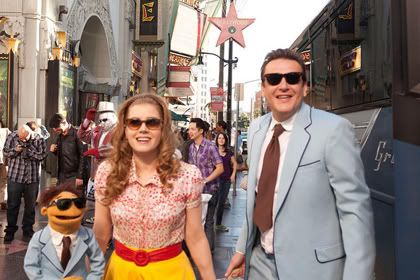 The cheerful and colorful reunion of Jim Hansen's Muppets was the perfect movie for the times, the ideal pick-me-up that everybody didn't even know they needed -- that is until they went out to see it. With glowing and bubbly performances from Jason Segel and Amy Adams and an unabashed love for the Muppets from Segel who co-wrote the movie, it was the feel-good sensation of 2011. It marked a return to simplicity, the joy of watching song and dance. And with a slew of big celebrity cameos, the movie felt like a collaboration on something meaningful and inspirational -- more than you might ever imagine coming from a gang of puppets.
7. Crazy, Stupid, Love.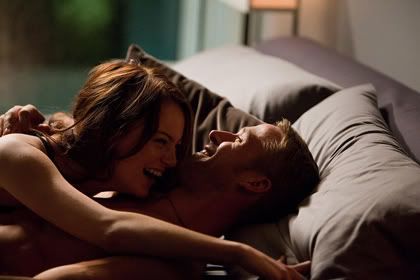 The chemistry between Ryan Gosling and Emma Stone in one titular scene in this movie is enough to make the list. This movie marked Ryan Gosling as not only a valuable actor but one with a great knack for comedy, too. He's excellent with Emma Stone, and likewise Steve Carell and Julianne Moore shine as a married couple on the outs. The movie is unassuming about the level of depth it goes into analyzing contemporary relationships, and it came off as the biggest welcome surprise of the summer.
6. Harry Potter and the Deathly Hallows: Part 2
Childhood ended with the finale to J.K. Rowling's epic fantasy franchise in Steve Klove's visually thrilling and emotionally satisfying conclusion. Set up nicely with the dark rolling clouds of "Part 1," Daniel Radcliffe, Emma Watson and Rupert Grint grew into mature actors since their humble beginnings a decade ago providing the necessary weight to say farewell to our favorite Hogwarts students. Alan Rickman also deserves recognition for his long standing role as Severus Snape whose character comes to tragic full circle in this installment. The film rightly represents the vast accomplishment of the Harry Potter series as a whole.
5. Young Adult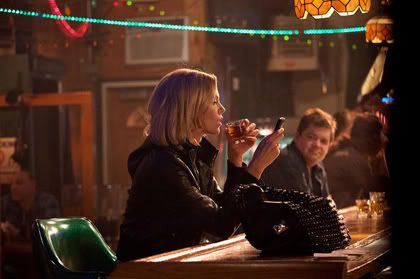 The re-collaboration with screenwriter Diablo Cody and director Jason Reitman proves their previous film "Juno" was no fluke. This pitch black comedy about a disgruntled woman returning to her high school hometown to rekindle with an old flame might be cringe-inducing, but it's also truthful and smart entertainment breaking conventions of Hollywood storytelling. Charlize Theron as Mavis Gary gives a ferocious and raw performance as a completely unlikable protagonist who, amazingly enough, earns our sympathy. Patton Oswalt gives an equally effective performance as the guy who recognizes Mavis is crazy but also knows she's just as miserable as him even if she doesn't realize it.
4. The Artist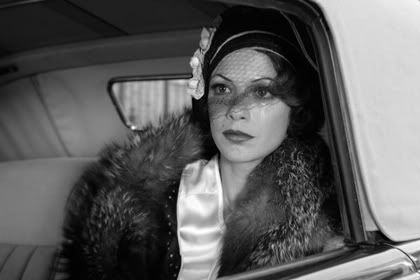 What could've come off as merely a gimmick becomes so much more than that. Michel Hazanavicius' tribute to black and white silent cinema is also a tribute to the universality of film. It feels like something kept preserved in a time capsule with performances from French actors Jean Dujardin and Berenice Bejo that are genuine to the era. It's a rousing achievement both thematically and technically reminding audiences that there's so much value to be garnered from film no matter if it's without words or color.
3. Drive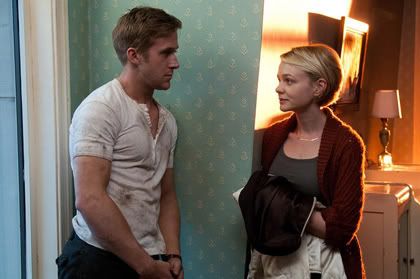 Again defining 2011 as the year of Ryan Gosling, this slow-burning character study starring Gosling as a nameless getaway driver was powerful stuff. With a sleek and subdued European sentiment from filmmaker Nicolas Winding Refn, the film creeps along hauntingly with Gosling's impenetrable calm at its center and a menacing turn from Albert Brooks as a cold-blooded villain. The film is a carefully crafted beast, a moody and gradual escalation with hyper-violent and ultra-stylized eruptions fueling its engine.
2. Bridesmaids
"Bridesmaids" is hands-down the best comedy of the year. More than just the female "Hangover," the movie marked a turning point in modern comedies. The hilarious and bold comedy from director Paul Feig, actress/writer Kristen Wiig and her co-writer Annie Mumolo shows us women can be drunk, insecure, vulgar and pathetic not like men but like women. It's a triumph in equality and entertainment both sexes can easily embrace. Full of embarrassing outbursts, lavish gross-out toilet humor and a star-making turn from Melissa McCarthy, the movie is easily among the very best of the year.
1. The Descendants
It took him seven years, but writer/director Alexander Payne returned with another great piece of American filmmaking with signature Payne-ian style à la "Sideways." It's a miracle how effortlessly Payne captures the messiness of life performing a carefully choreographed balancing act between sharp comedy and shattering drama. He uses the exotic island location of Hawaii not to promote it as a tourist hot spot but instead what it really is: just another place to live. George Clooney in the leading role gives his best performance to date. Throwing away his usual charming demeanor, he displays a father struggling to keep his family from falling apart. Shailene Woodley is a revelation as the oldest daughter sporting typical teen angst with something a little deeper and soulful. What makes this film the best of the year is its bittersweet message not only acknowledging flaws in humanity but celebrating them because we've all got them.